What exactly is the "Birkin"?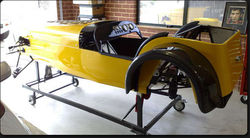 The Birkin sports car is essentially a reproduction of the Lotus 7 Series 3, originally manufactured by Lotus Cars UK in 1968. The Birkin S3 fits into a niche market for classic cars of the "7" variety, of which there are numerous derivatives. Most of these are only broadly similar to the original Lotus in Cosmetic appearance, and differ significantly in technical construction.
Birkin's S3 is one of only two reproductions worldwide that bear any real resemblance to the original Lotus, although both have been re-engineered in different directions to meet modern safety and emission legislation. Birkin Cars (Pty) Ltd is a South African manufacturing entity who has earned an enviable international reputation for craftsmanship and quality.
The Birkin S3 Roadster - Independent Rear Suspension
The S3 Chassis is fitted with an Independent Rear Suspension. Responsive and exhilarating to drive, the IRS model is a well balanced performance Roadster with incredible road holding and acceleration. The IRS model offers superior roadholding and ride on bumpy surfaces with a modest increase in price and no weight penalty.