Birkin at 2007 Adelaide Motor Show
Sunday, April 1st 2007, 13:19 GMT+10:00
Australia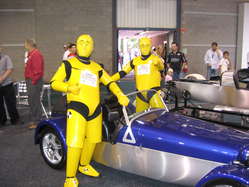 So easy to put together even a couple of dummies can do it!
Birkin Sportscars Adelaide recently completed a 5 day display at the Adelaide Motor Show held at the Wayville Show Grounds from March 28th to April 1st, 2007.
Local Birkin agents Geoff Mockford and Adam Serafini, manned the stand during the course of the show and were overwhelmed with the level of interest shown in the kits. On display was a partially assembled live axle kit and Garth Zerbe's recently completed azure blue coloured independent rear end kit fitted with a Toyota 20 Valve 4AGE. Garths car drew plenty of attention for its beautiful build quality and is the first independent rear end kit finished in Adelaide. At present there are four new independent rear end kits under construction.
Birkin's Geoff Mockford stated, "We were very happy with the strong level of interest especially from country areas like the South East where a kit has recently been sold to Mount Gambier High School" (more news on this later).
Birkin's Adam Serafini stated, " Of great importance to us was raising the image of Birkin to the general public and the Adelaide Motor show gave us a great opportunity to do this. Our stand was situated right next to Elfin and Lotus and I think Birkin's presence complemented those marques very well."
Next year Birkin Adelaide hopes to exhibit again with a bigger stand and demonstrations of how easily the kits are assembled. The level of interest promises good things to come for the rest of the year.
You can view more photos of the Birkin display in our Gallery.